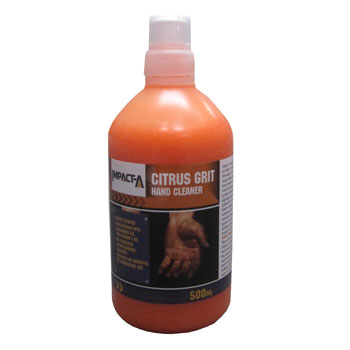 IMPACT-A Hand Cleaner - Orange Grit 500ml

28367
Impact-A Orange Grit Hand Cleaner is a biodegradable, non-toxic cleaner formulated to remove and dissolve tough grease, oils, tars and soils encountered in the workplace.
A soft scrubbing abrasive, Cenolite, (a silica and alumina lightweight aggregate), gently removes ingrained dirt by massaging the skin.
Impact-A Orange Grit Hand Cleaner is ideal for cleaning hands in workshops, food preparation areas, restaurants, farms and garden nurseries as well as domestic environments and can even be used as a foot scrub to revitalise tired and weary feet. Mild enough to use every day, the moisturisers and Vitamin E oil in Impact-A Orange Grit
Hand Cleaner work to rejuvenate your skin, leaving hands soft and clean after a hard days work.