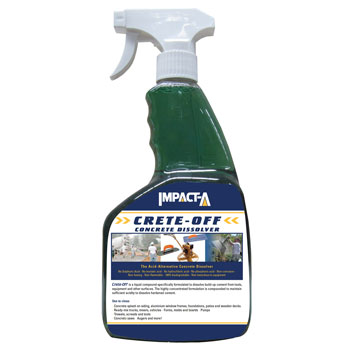 IMPACT-A Crete-Off Concrete Dissolver 750ml

10010
Impact-A Crete-Off Concrete Dissolver is a liquid compound specifically formulated to dissolve built up concrete from tools, machinery and other unwanted surfaces. The formulation is compounded to maintain sufficient acidity to dissolve hardened cement.
Used to clean unwanted concrete off, aluminium window frames, patios and wooden decks, ready mix trucks, mixers, vehicles, forms and formboards, pumps, trowels, screeds, tools and more.
100% biodegradable and contains no sulphuric acid, no hydrochloric acid, no muriatic acid, no phosphoric acid and is non-flammable.
Also available:
5 Litre Spray Container
20 Litre Container
208 Litre Drum
PDF Downloads : Crete_Off Technical Data Sheet, Im